A MegaGrant of Epic proportions
By
Manos Kalaitzoglou
·
1 minute read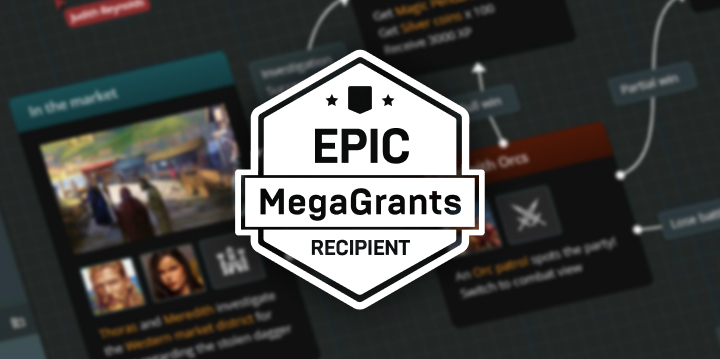 Our vision for Arcweave has always been to make game design fast, collaborative, and more accessible to creative teams around the world. As we approached mid–2021 and reached 8.000 teams and 12.000 projects, it was apparent we should start focusing more on Arcweave's integration with other game development software: bridging game ideation, prototyping and production has always been the holy grail in our hearts, and it was time to pursuit it.
We decided to apply for an Epic MegaGrant in order to research such integration with popular game engines, starting with Epic's own Unreal Engine. Exporting Arcweave project data directly to Unreal has been highly sought out by our users, since the very first release of our JSON-export feature.
A few weeks ago we were greeted with a congratulatory mail of acceptance of our application from Epic. 🥳 We are excited to be one of the teams that got selected to be supported with a MegaGrant and get one step closer to our mission of bringing interactive storytelling closer to everyone.
And of course, we could not have done it without you, our amazing users and customers. Thank you from the bottom of our hearts for supporting us in this journey and stay tuned for more surprises to come this year. We are just getting started!
About Epic MegaGrants
Launched in March 2019, Epic MegaGrants is designed to service and assist game developers, enterprise professionals, media and entertainment creators, students, educators, and tool developers doing outstanding work with Unreal Engine or enhancing open-source capabilities for the 3D graphics community. See here for more information on Epic MegaGrants.